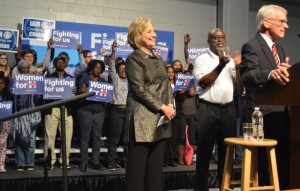 Democratic presidential candidate Hillary Clinton appears at a rally at an International Longshoreman's union hall in Charleston, SC.
South Carolina Boeing workers are used to politicians butting in to say they shouldn't have the right to organize for fair pay, benefits and working conditions. The IAM's organizing campaign at the Charleston Boeing facility has become a punching bag for politicians trying to score points by beating up on workers' rights.
Despite South Carolina's dismal rankings in median income, poverty and health insurance coverage, Governor Nikki Haley has said the state "doesn't want unions, because we don't need unions." Haley and other South Carolina politicians have publicly advocated against Boeing workers signing union authorization cards.
Only 2 percent of South Carolina workers are union members, the second lowest rate in the nation.
But at a recent campaign stop in Charleston, Democratic presidential candidate Hillary Clinton demonstrated she understands the importance of a strong union contract.
"Now I know that here in this state, there is a big effort, led from the top but going throughout your government, to dismantle collective bargaining rights," Clinton said at a Charleston Longshoreman's union hall. "You hear it all the time: South Carolina doesn't need unions. I've got to tell you, you still have a lot of really poor people in South Carolina who need good jobs with rising wages and safe working conditions."
Clinton went on to leave no doubt she supports the rights of Boeing South Carolina workers.
"I stand with the workers over at Boeing who are being asked to stand up for themselves," said Clinton, an honorary IAM member. "They are fighting for the right to organize free from intimidation and harassment, because those rights are central to building the middle class. And we need to stand up to attacks on workers' rights."
On average, union workers' wages are 27 percent higher than their nonunion counterparts, according to the latest data from the Bureau of Labor Statistics. Unionized workers are 60 percent more likely to have employer-provided pensions.
"Secretary Clinton has made it clear once again why she's the IAM's choice to become the next president of the United States," said IAM International President Tom Buffenbarger. "Throughout her storied career in public service, Clinton has been a steadfast supporter of the right to organize. Boeing workers in South Carolina can take comfort in the fact that Hillary will protect their right to choose for themselves, without harassment or interference."
The IAM, with over 600,000 active and retired members, was the first major industrial union to throw its support behind Clinton's presidential bid.
View the original article on the goiam.org site here.