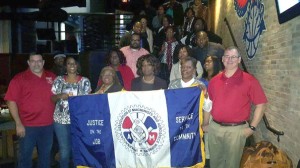 Workers at Office Remedies in Atlanta overcame a brutal anti-union campaign to vote for IAM representation.
IAM District 131 in Georgia has seen lots of organizing action in recent months. First, new organizer Billy Barnwell organized over 100 new members at Local 2789 in Grovetown, GA on an internal organizing campaign at John Deere.
It didn't stop there.
When 24 employees at Office Remedies Inc. signed cards asking for the IAM to represent them at their workplace in Atlanta, the company bragged they had never lost a union election. The IAM ended that streak.
"They put on a full bore anti-union campaign, complete with Jackson-Lewis-produced videos and captive audience meetings," said Barnwell. "It didn't do a bit of good, it simply increased our support and we won easily."
The employees at Office Remedies conduct job opening and labor turnover surveys for the U.S. Bureau of Labor Statistics. Worker issues included wages, seniority rights and favoritism.
Now, 58 Office Remedies workers on a different floor in the same building have overwhelmingly voted for IAM representation, even in the face of another vicious anti-union onslaught by the company.
"These folks were very strong," said Barnwell. "They would try to set up lunches where the company bought pizza and wanted to show anti-union videos. The workers didn't go, and ordered their own pizza and laughed as the company had to throw theirs away. When workers stand together, the company tactics just fizzle."
IAM Southern Territory General Vice President Mark Blondin praised the efforts of the District.
"Brother Billy Barnwell came into this position with little training, but he's quite effective," said Blondin. "He speaks from the heart, and people will stand with him for a better day on the job. We welcome our newest members, and congratulations to everyone involved!"
View the original article here on the GoIAM.org website.