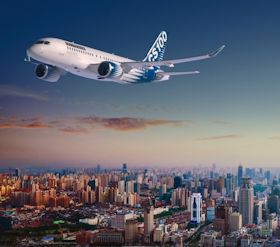 Canadian planemaker Bombardier, which employs over 4,000 IAM members, announced a deal with Delta Air Lines to sell up to 125 CSeries jets to the U.S. carrier, the largest order so far for Bombardier's newest commercial jet lineup.
The $5.6 billion order from a major global airline is a significant boost to the CSeries program. Delta has placed a firm order for 75 of the 120-seat CSeries 100 model with options for an additional 50 aircraft. The first Delta CSeries 100 aircraft will be delivered in 2018.
On February 17, Air Canada announced it would purchase 45 C Series 300 aircraft with options for 30 additional aircraft. Bombardier's CSeries order book now stands at 370 firm orders.
The IAM is the largest union in the Canadian Aerospace industry, representing over 4,600 workers at Bombardier.
View the entire article on the GoIAM.org website here.