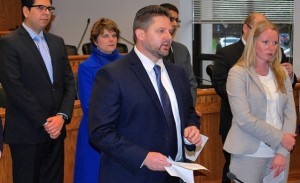 IAM District 751 President Jon Holden speaks at a press conference in favor of a bill that would require Boeing to maintain jobs in Washington state after receiving an $8.7 billion tax break.
The IAM and District 751 are urging Washington state legislators to pass a bill requiring the Boeing Co. keep its promise to "maintain and grow" aerospace jobs in the state.
"Since the Legislature's November 2013 Special Session and passage of the $8.7 billion tax incentive extension, Boeing has intentionally moved over 4,000 jobs out of Washington," said District 751 President Jon Holden and International President Bob Martinez in a joint letter sent to Washington state lawmakers. "This outcome is contrary to the stated intent of the tax incentive legislation. It is also contrary to Washington's public interest and the aerospace workers of this state."
District 751, which represents more than 30,000 Boeing workers, has been lobbying lawmakers to pass House Bill 2638, which would require Boeing to keep a certain amount of jobs in the state in order to receive the full tax cut.
In September, Boeing announced it was opening a new finishing facility in China to perform 737 work that had never previously been done outside the U.S. For years, the IAM has protested the movement of U.S. work and technology to China. Not only has this resulted in the direct loss of U.S. jobs, it has also greatly contributed to the development of China's aerospace industry.
"Instead of using tax incentives to sustain and grow the U.S. aerospace industry, Boeing is further penalizing U.S. workers," said Martinez. "It's no way to treat IAM members who built Boeing from the ground up and we will urge all IAM members to support District 751 members in this critical fight."
The Aerospace Tax Incentive Accountability Act has 14 co-sponsors, two of whom are Republicans. It is awaiting a committee vote.
If you live in Washington state, tell your legislator in Olympia to vote YES on HB 2638.
Read the original article at the GoIAM website here.