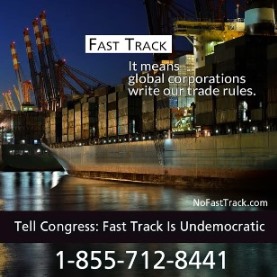 The IAM is joining the AFL-CIO and other allied unions and organizations in a  Stop Fast Track Lobby Day on March 4, 2015 in Washington, DC. IAM members will be out in force, meeting with U.S. Senators and Representatives to explain why Fast Track and the Trans Pacific Partnership (TPP) trade agreement is shaping up to be a disaster for America's working families.
The Obama administration is moving full steam ahead to complete secret TPP negotiations with 11 Pacific-Rim countries, while working to win "Fast Track" trade authority from Congress. Fast Track means that Congress relinquishes its responsibility to determine trade policy to the administration and will be subjected to limited debate and a straight up or down vote with no amendments when the trade bill comes before them.
To make our voices to Stop Fast Track even stronger, IAM members not able to meet with their legislators can call them using the AFL-CIO's toll-free trade hotline at 1-855-712-8441 or email:
Tell Congress to vote NO on Fast Track for the TPP.
"The Obama Administration is in the final stages of negotiating the most significant corporate-driven free trade agreement since NAFTA – the Trans Pacific Partnership (TPP)," said IAM International President Tom Buffenbarger. "Passage of the TPP will lead to the loss of American jobs to human rights violators like Vietnam, continued downward pressure on wages and benefits, and the importation of unsafe food. The TPP must be stopped and re-negotiated to benefit all Americans."
Websites to track bills from Congress:
What's wrong with TPP? A lot! And you thought NAFTA was bad?! Click Here to go to the GoIAM website and find out what could be America's next big free trade mistake!