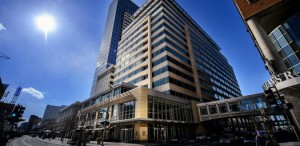 Target headquarters in downtown Minneapolis.
Organized labor's first victory at Target Corp. — a pro-union vote by pharmacy workers in New York — will stand as federal regulators this week rejected the company's petition to nullify the election.
In September, pharmacy workers at a Target in Brooklyn voted 7-2 to join the United Food and Commercial Workers Union. Minneapolis-based Target petitioned labor regulators to invalidate the election, saying it should never have occurred because the company is selling its entire pharmacy operation to drugstore giant CVS.
The $1.9 billion CVS deal announced in June affects all 1,660 Target pharmacies, which employ about 14,000 people.
On Tuesday, the full board of the National Labor Relations Board [NLRB] denied Target's petition, saying it "raises no substantial issues warranting review."
Target could ask a federal appeals court to reverse the NLRB's decision.
Read the original article here.