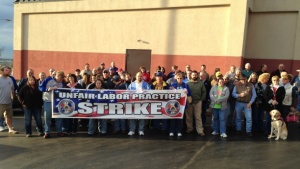 More than 130 IAM Local 219 families at Bluegrass Station, KY were on an unfair labor practice strike against government sub-contractor Allsource Global Management. The strike ended on Monday, March 2, 2015 when the group ratified a new contract.
Members of IAM Local 219 voted on Monday to ratify a new contract with defense contractor Allsource Global Management (AGM), a Lockheed Martin subcontractor, at the Bluegrass Station Army Depot near Lexington, KY. The new contract restores nearly all of the proposed cutbacks that triggered the October 1, 2014 strike and forced members onto picket lines for five months.
Among the issues initially rejected by members were pay cuts of more than 30 percent, sweeping changes to grievance/arbitration process and job classifications, elimination of long-standing seniority protections and basic due process provisions in the existing agreement with attempts to silence their voice in the workplace.
"The members of Local 219 can return to their jobs with heads held high and dignity intact," said IAM Southern Territory General Vice President Mark Blondin. "Their cause resonated with IAM members across the country, who contributed substantial financial and moral support to sustain members throughout the five-month ordeal. It is a credit to these members and this union that this contract was achieved despite such significant and sustained opposition. I extend my deepest thanks to the members of Local 219, their families, the staff of District 711 and the steady leadership of Grand Lodge Representative Tony Blevins for helping to bring this dispute to a successful conclusion."