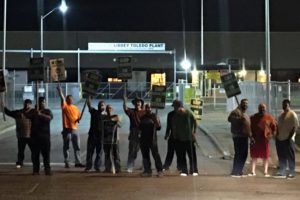 IAM Local 105 Members along with Glass Molders and Pottery Workers Local 59 Members picket the entrance of the Libbey Glass Toledo plant.
More than 100 members of IAM Local 105 in Toledo, OH went on strike at midnight Thursday after overwhelmingly rejecting the "last, best and final offer" (LBFO) from Libbey Glass. The District 54 IAM members were joined on the picket lines by members of Glass Molders and Pottery Workers Local 59 as they rejected their LBFO as well.
Four Unions represent workers at the plant with two of them rejecting Libbey's final offers and in a great show of solidarity, the other two honoring their picket lines. At the heart of the dispute are safer working conditions, wages, forced overtime and a draconian attendance policy.
"I'm proud of our members for standing strong in solidarity for a contract that they deserve," said IAM Eastern Territory General Vice President James Conigliaro, Sr.  "Our collective bargaining agreements are worth fighting for. The IAM and the Eastern Territory supports them 100%."
"These members stood in solidarity, and not just for themselves," said District 54 President and Directing Business Representative T. Dean Wright, Jr. "They stood with all the workers in that plant to ensure every working family represented there gets a fair deal from Libbey Glass. They are committed to getting what they've earned, every one of them is a longtime, dedicated, and skilled worker deserving of their fair share."
Read the original article on the www.GoIAM.org website here.