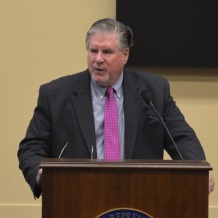 U.S. Business and Industry Council President Kevin Kearns speaks on U.S.-China relations and the importance of action to tackle our trade deficit.
A group of nine experts took part in a conference on China-U.S. relations and delivered incisive opinions about what the future holds for America.
The U.S. Business & Industry Council (USBIC) hosted the event to discuss the consequences of China's aggressive economic and military buildup, and the absence of any effective response by the U.S. government.
"What seems to be missing in Washington is any idea that our massive trade deficit is a large part of the problem," said USBIC President Kevin L. Kearns. "We are quickly heading to a debt of $20 trillion or more. Getting our trade house in order would have an enormous positive impact on our economy and put pressure on the Chinese to rationalize their economy."
Although China is not yet a direct party in the Trans-Pacific Partnership (TPP), it already has existing agreements and great influence with many of its partners who are part of the TPP. China could join the TPP at a later date.
"In whose interest is the TPP really being negotiated… and is it focused on the correct issues in relation to U.S. objectives with China?" posed AFL-CIO Trade and Globalization Policy Specialist Celeste Drake to the conference.
"We keep being promised that all of these governments are going to get rule of law. Labor standards are going to rise. You're going to see how fantastic it is," Drake reminded the conference. "The exact opposite has happened…Just because our biggest companies say it's going to be good for them, doesn't necessarily mean it's good for building a sustainable U.S. economy where workers have confidence that things are going to get better in the future."